One of the most innovative and valuable outcomes of various artificial intelligence advancements (AI) is the creation of new sensor technology. These impressive advancements in sensor technology include the development of video as a sensor that will quickly change the way we use video feeds already established throughout industrial facilities.
What is Video as a Sensor?
As a sensor, videos use AI and machine learning to transform a live video broadcast into a smart sensor. The information collected by the video is then passed on to field workers and operations teams so that they can operate in a safer manner and analyze trends at both micro and macro levels to improve efficiencies. Moreover, videos working as sensors support machine learning for the identification and detection of risks. By neural network model training and image tuning, the system recognizes, through inference, visual abnormalities and suggests instantaneous, doable insights.
With this system, facility personnel can devote and allot their time to more critical and time-sensitive responsibilities. With a real-time alerting feature in place, emergency responses get expedited, promoting and ensuring workers of a safer working environment.
Video As A Sensor in IIOT
When Information Technology (IT) and Operational Technology (OT) are converged and incorporated, the Industrial Internet of Things (IIoT) is born. IIoT encompasses the integration of automation, communications, and networking in industrial environments.
Progressively, the integration of sensor and machine data gets applied in terms of managing industrial environments. The combination of IT and OT environments allows a more straightforward control and more accurate monitoring, but with more accessible data analysis from various parts of the world.
IIoT practices narrow the gap between the virtual and physical worlds to link assets for rapid access to relevant data existing around your environment. With IIoT, you can smoothen asset management and visibility to escalate and increase efficiency, productivity, profitability, and most importantly, safety within and around the environment you move in.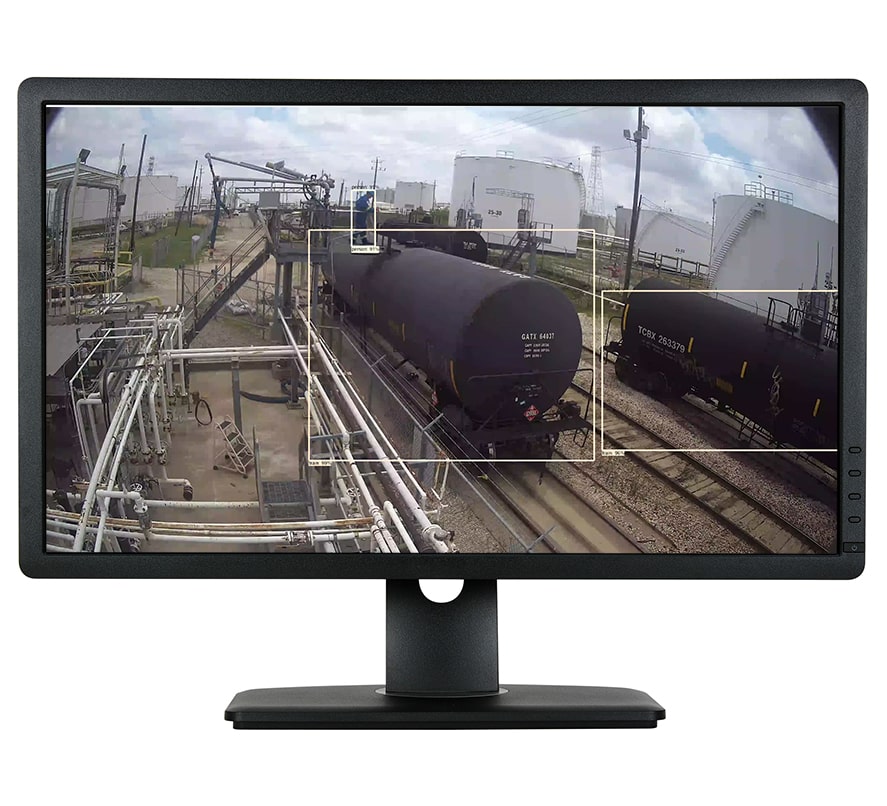 How Does Video as a Sensor Technology Improve Industrial Operations?
Cameras have come a long way since the grainy days of analog. What is still known today as 'CCTV' cameras have drastically improved and extended beyond just capturing a video to analyzing the incidents presented on screen and delivering instant and actionable insights.
Among the uses of a camera as a sensor technology is data production about facility activity. This data production can provide meaningful insights into the safety and efficiency of your team and processes. As a sensor, cameras can indicate the movement of your staff throughout your facility monitoring the effectiveness of their work and provide notifications of incidents. Upon identifying an incident, the system can send the relevant video footage to your operations center so they can immediately look at the relevant footage. This results in massive time savings as otherwise your operations center would need to comb through potentially hours of footage to find the relevant camera angles and timestamps of the incident.
You can also use this data to improve or even completely automate your emergency response procedures. The cameras used can detect an incident that warrants initiating your emergency response procedure then communicate this incident to your other IoT devices. Depending on the extent of your IIoT devices, you could entirely automate your emergency response procedure from contacting the appropriate parties to shutting down machinery. With this type of automation using video as a sensor technology, you can shorten your response times minimizing the effects of any potential incidents.
With the data available from cameras working as sensors, industrial facilities can create more informed decisions to minimize regulatory risks and enhance their inspection capabilities. Video as a Sensor technology can utilize the data collected in a real-time video feed to identify regulatory violations the moment they occur. With this information, a facility can then adjust its procedures to avoid that violation in the future prior to being fined. It can also enhance a facility's inspection capabilities by providing data that would normally have to come from a QA/QC professional sifting through products.
Who Can Benefit from Video as a Sensor Technology?
While just about any facility in an industrial setting can benefit from video as a sensor technology, it's best paired with other IoT devices to further automate tasks. By pairing video as a sensor technology with other IoT devices, all devices can communicate with each other providing comprehensive data regarding your facility.
It's also extremely effective in industries subject to strict regulations. Oftentimes, video as a sensor technology can catch regulatory violations as soon as they occur giving you time to fix the issue prior to an inspection by regulatory authorities.
Overall, video as a sensor technology will help industrial facilities gain a competitive edge through enhanced facility monitoring and meaningful insights for improving efficiencies.
Contact us for more information on how to leverage this technology as part of your digital transformation journey. We will provide you with a technical consultation customized to your company needs and current status.