Automated test equipment and a fully integrated test program are critical to meet your current and future electronic and electromechanical test needs. Keeping test systems up to date ensures a future of uninterrupted testing, and, in order to achieve that, you must integrate test into the design cycle from the beginning.
Basing test systems on commercial off-theshelf (COTS) technology offloads the burden of part maintenance and obsolescence management so you can use your expertise to produce state-of-the-art aerospace and
defense assets instead of building custom test rack components.
These universal ATE systems allow you to cover both mechanical and electronic component tests, with a tailored test solution that is industry-standard, upgradable, modular and open.
Reduce Test and Repair Cost: System and Data Management reduce the operational costs of ageing test equipment through distributed system and data management strategies. Additionally, we offer a full range of services, such as calibration, extended warranty, short time repair or replacement, that help you optimize the test system life cycle.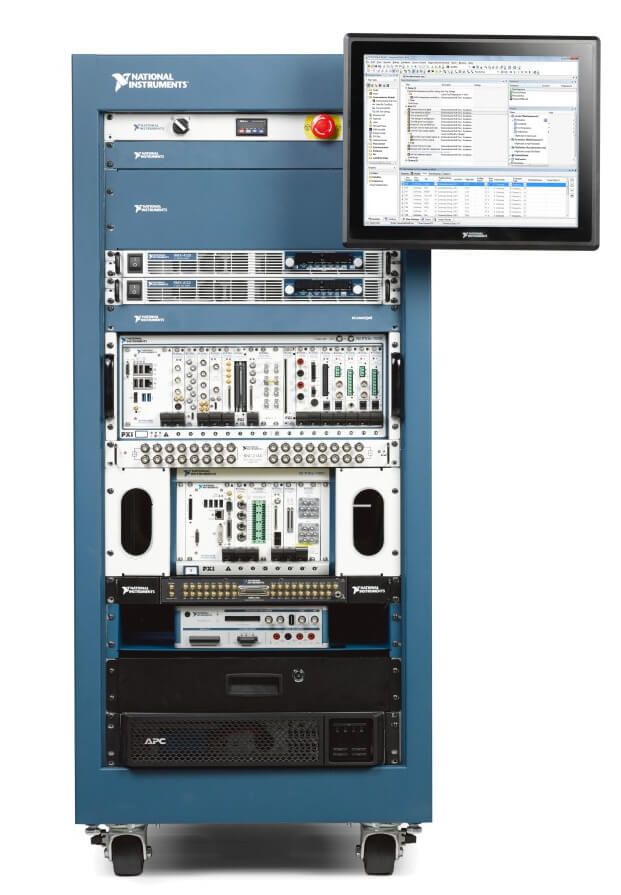 Test Software
Software is the key to flexibility in an ATE system. In addition to designing your test application, you most probably will need a software to manage (develop, debug, and deploy the test system) your test with full visibility into the testing process and results; or to measure data aggregation, inspection, analysis, and reporting. A good cost-effective option is to get a bundle that contains all these software capabilities: Test Workflow is a recommended collection of NI software for engineers working on research, validation, and production test applications.
Test Workflow provides application-specific tools so that you can choose the right one for the job you need to accomplish—from graphical programing environments to no-code and interactive software applications which allow you to perform everything from a quick ad-hoc test to buildin a full automated test system, and also automate data analysis and reporting, develop test sequences, etc.