Intelligent Online Machine Condition Monitoring
Online machine condition monitoring technologies help find, diagnose, and prioritize problems from manufacturing lines through preventive maintenance and predictive maintenance techniques. Asset health monitoring allows for increased manufacturing uptime, since identifying the smallest changes can help discover important common equipment failure modes. This translates into less operation costs, optimized repair and spare parts management and a higher productivity even with smaller teams.
In the Oil and Gas Industry, for example, companies applying best practices for machine condition monitoring have reported a 50% decrease in maintenance costs.
Nowadays, these techniques need to be connected with IT systems as part of a digital transformation experience, Industrial Internet of Things (IoT), or Industry 4.0 program.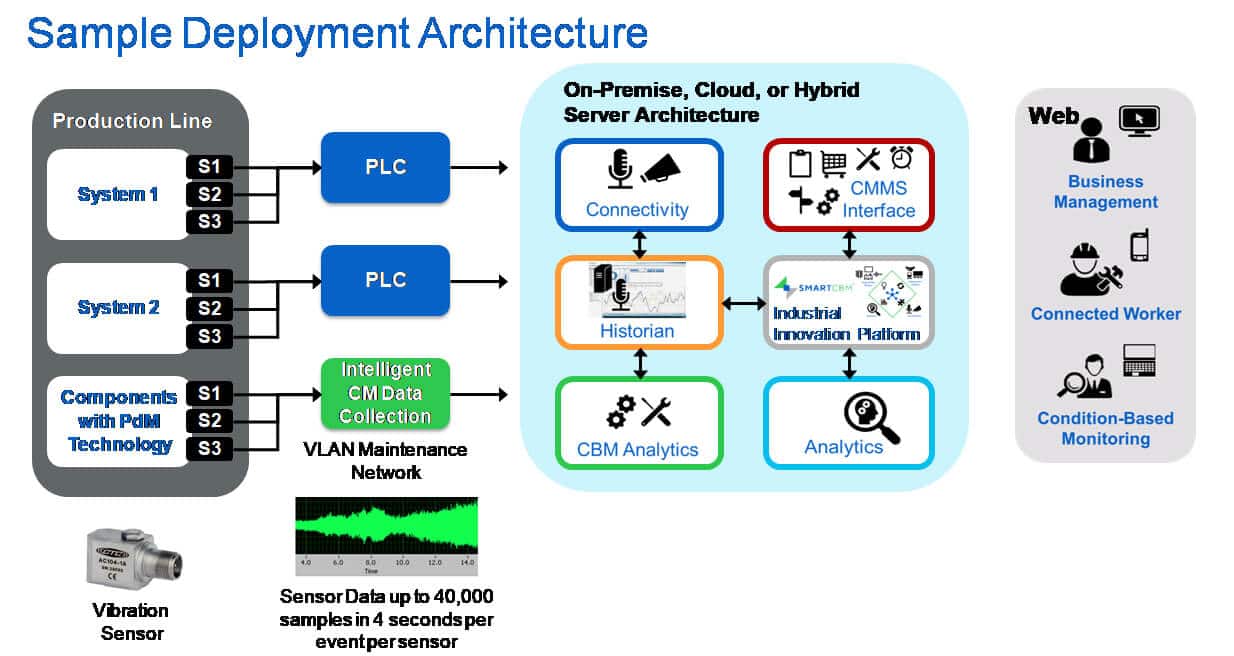 Featured Technologies
Data Acquisition and Analysis: remote analysis of waveform data.
Condition Indicators.
All type of sensors.
Alerts.
Predictive Analytics.
Remote machine monitoring is changing service models across industries, and service organizations that do not embrace this new technology will rapidly fall behind more savvy competitors.
According to IDC, 23% of manufacturing service leaders have adopted a proactive maintenance approach, focused on product monitoring.
What is Remote Machine Condition Monitoring and how does it work?
Remote Machine Condition Monitoring is about solving problems before they happen.
It is the process by which a machine status, performance and behaviors can be viewed from afar. This enables the team responsible for asset maintenance to:
• Prevent unplanned downtime and to accelerate repair times, which means achieving much higher percentages of uptime
• Improving KPIs such as mean-time to repair (MTTR) and first-time fix rates (FTFR) since it allows technicians to access data that is actionable and timely.
So, remote machine condition monitoring is the main pillar of smart manufacturing initiatives. How does it work? It combines IoT Technologies and smart data management, enabling access to the most recent actionable data available. The key point here is actionable data: getting machine vibration analysis data that you can actually turn into more intelligent and robust analytics to help drive smart decisions. It is not only about the sensors; it is about connecting critical equipment to your subject matter experts and to your IT systems as part of a digital transformation IIoT strategy.

What are the results of using Remote Machine Condition Monitoring strategies?
Adopting online or remote monitoring technologies for your asset or machine health monitoring has a very clear positive impact on business assets:
• It helps you increase days of production and overall uptime. Remote machine monitoring also involves a more efficient sparing strategy, which allows to better plan your preventative maintenance schedule, for example, therefore minimizing downtime.
• The reported industry's Average FTFR is 60% and we have seen companies increase it to over 80% thanks to remote data management and online conditioning strategies.
• It also extends machine lives and increases customer satisfaction, which in turn reflects on your service reputation.
Do you want to see how other companies are using Online Machine Condition Monitoring?
In this eBook, by our partner PTC, you can explore how companies similar to yours are using already remote monitoring to deliver significant bottom-line business benefits and to enable service-business innovation.