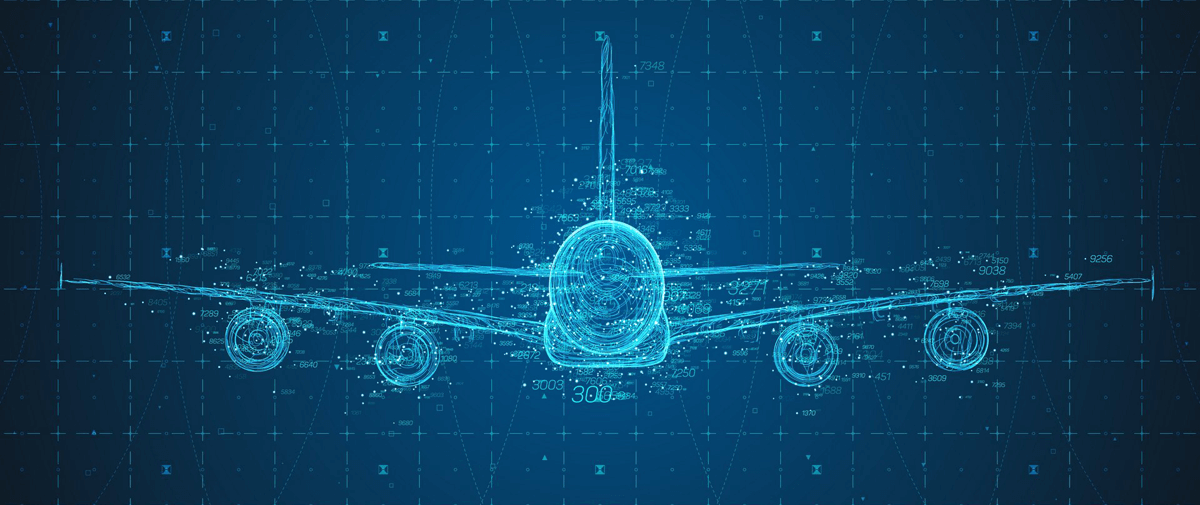 The ever-increasing adoption of the Internet of Things (IoT) is expected to deliver Industry 4.0 by revolutionizing transportation, manufacturing, and other sectors. According to Allied Market Research, the IoT transportation global market is growing at a CAGR of 13.7% and is projected to reach $328 billion by 2023. Already, IoT devices are revolutionizing road, rail, maritime, and aerospace sectors.
The Role of IoT in Aerospace
In the aerospace industry, the adoption of IoT is transforming both ground and air operations. For instance, Aerospace manufacturers are exploiting IoT to develop and deploy robust analytical strategies to improve operational efficiency. Extensive connectivity delivered by IoT allows for the coming together of devices and enables effective human-to-human and human-to-machine coordination, cooperation, communication, and interoperability. Certainly these are the main ingredients of efficient and profitable operations in the aerospace sector, and might be staying behind your competition if you are not making the right investments in this area.
The Problems: Perennial Issues in Aerospace
The aerospace industry has been struggling with perennial issues that undermine the success of aircraft manufacturers. The biggest concern in the aerospace industry is manufacturing delays. Most airplane production programs are consistently late to market for up to three years and longer due to manufacturing and operational inefficiencies. For decades, manufacturing complexities have increased costly delays, lost sales, and canceled orders. These delays also taint the reputation of aircraft manufacturers and strain business-client relationships. Reputation is priceless, particularly in aerospace.
Energy is one of the costliest components in aircraft manufacturing. Unsustainable operations can increase energy usage and the costs ballooning the budget. Another perennial problem is the costs of maintenance and repairs. As the number of airliners increase, bearing the cost of keeping airlines airborne is increasingly becoming a challenge.
The Solutions: Industrial IoT Solving Perennial Problems in Aerospace
With the adoption of IoT, companies in the aerospace industry are exploiting industrial IoT (IIoT) to improve efficiency. Data generated by IoT devices are leveraged to enhance sustainability and keep aircraft airborne. IoT is showcasing its merits in aerospace in multiple many ways:
1. Advanced IoT analytics enhance the visibility of inefficiencies
Industrial IoT is delivering innovations that allow companies to bring together and align all factors in their processes. For one, advanced IoT analytics can address shortages due to supply chain miscalculations. They offer extensive visibility and can surface engineering inefficiencies. IoT is simplifying manufacturing complexities and can reduce delays.
2. IoT-enabled smart meters address energy usage
Aerospace companies are adopting IoT-enabled smart meters in aircraft manufacturing to offer accurate and real-time information on energy usage throughout the entire production period. These smart meters analyze energy usage and propose energy-saving measures by exploiting advanced analytics algorithms.
3. IoT sensors monitor performance
Reducing the time an aircraft is grounded is critical to success. To this end, aerospace turned to IoT sensors. Robust IoT sensors provide performance data from thousands of angles, which allow aerospace companies to keep aircraft airborne and cut costs by addressing issues as soon as they land. Data gathered by IoT sensors can also reduce the cost, labor, and time needed to conduct regular maintenance.
Want to know more?
Drop us a line. We will be delighted to hear from you!
IoT Use Cases at Work in Aerospace
Airbus is one of the leaders in the adoption of IoT in the aerospace industry. The company launched a Connected Experience solution that exploits IoT to pull in data from machines and conveyors. The data is analyzed and aggregated to create a "digital shadow" – real-time visualization of the entire assembly line and surface inefficiencies. Airbus also leverages visual representation of the assembly line to develop and test effective manufacturing strategies using real-life simulations to improve operational efficiency.
Rolls Royce aggregates data generated by IoT sensors in the cloud and analyzes to visualize the performance of its jet engines, helicopter blades, and other products in real-time. It uses the data to predict engine performance issues and maintenance requirements. But, data usage is evolving and has expanded to provide valuable aftermarket services to its customers like route optimization.
Economic Implications of IoT Adoption in Aerospace
Even though quantifying the revolutionary impact of IoT in the aerospace industry is difficult, the economic implications of IoT use cases in the sector are immense. Firstly, manufacturing delays also delays the return on investment (ROI). Delays lock up scarce financial resources that should be generating profits elsewhere. Improving efficiency can unlock billions of dollars and improve ROI. With IoT, the investments of aerospace companies can contribute to the bottom line quicker than before. In Airbus' case, IoT streamlined its operations and improved efficiency by 20-30%.
Using IoT-enabled smart meters, aerospace companies can reduce energy usage. According to Airbus, IoT-enabled smart meters can deliver energy-efficient operations and reduce energy consumption by up to 20%. The more you save, the quicker and easier it is to attain ROI. Lastly, helping clients with effective maintenance strategies also helps the service provider.
Grounded airliners are extremely costly and cannot generate income to upset maintenance costs. For example, a grounded A380 Airbus incurs around $1.2 million per day on average. With IoT sensors, maintenance service providers can keep their client's aircraft airborne for longer and reduce losses.
Bottom Line
Whether your company operates in the aerospace or aviation sector, you need IoT to streamline operations, reduce inefficiencies, and return your investment quickly. You can exploit extensive connectivity and analytical capabilities offered by IIoT to bring all the factors of production together seamlessly. But for you to avoid pitfalls and common IoT mistakes, you have to work with an expert in IoT.
Did you know that IoT is inherently diverse and every implementation should be designed to cater to specific problem-solving strategies? Without expertise, you can lose your investment in a niched IoT system. Partnering with experienced hands ensures that your IoT systems will serve all your needs without missing a beat. This is where our expertise, connections, and partners come in handy. You can rely on us to get the expertise and solutions you need to exploit all the benefits IoT has to offer.