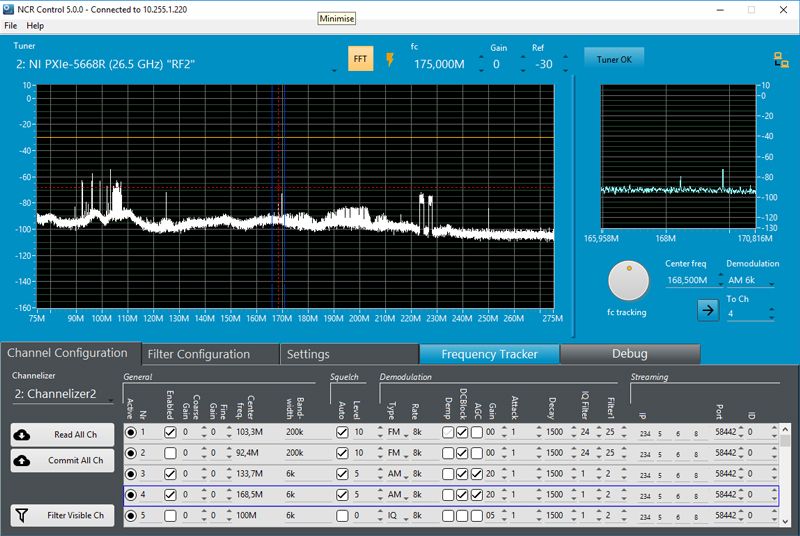 Novator Solutions today announced the release of HUGIN 2000 a high dynamic range networked multichannel receiver with two 50MHz, 80MHz or 200MHz real-time bandwidth per input and 2048 individually configurable DDCs. The Server Client architecture is optimized for real-time performance which continuously processes and streams individual signals in parallel to multiple remote clients for manual & automated surveillance.
The large amount of individually configurable DDCs, also known as digital drop receivers, combined with the robust server-client architecture and analog demodulation in real-time is ideal for demanding applications such as communication surveillance and spectrum monitoring.
Multiple operators can listen to and control a subset of the 2048 channels from different locations. In parallel, surveillance software can send tasking functions to HUGIN 2000 to automatically record and analyze hundreds of channels.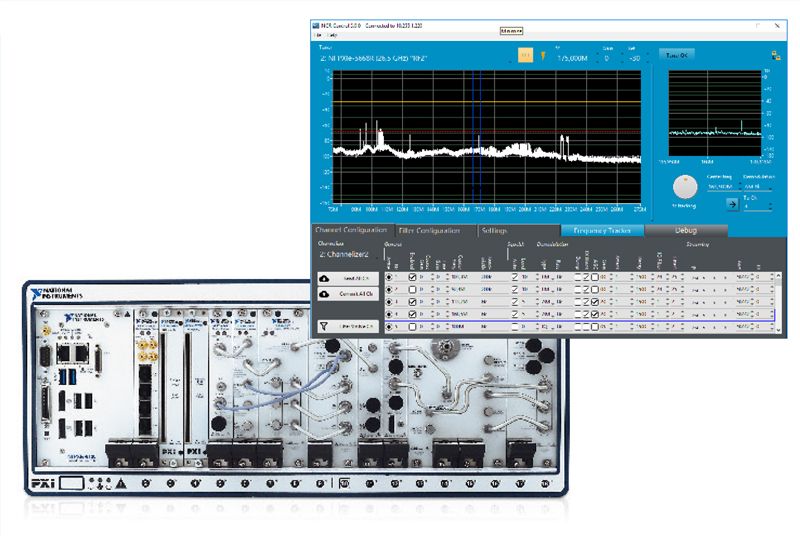 "Moving the server to the receiver itself and process 1024 DDCs in real-time in the server/receiver provides a new level of flexibility for remote operations", says Henrik Ulfhielm, CEO for Novator Solutions.
HUGIN 2000 is available with one or two Receivers with 1024 DDCs each and AM, FM, SSB and CW real-time demodulation or direct I/Q data stream.
Following DDC parameters can be individually configured: Center frequency, sample rate/bandwidth, Gain, filter, demodulation, or I/Q data stream. Each DDC output can be streamed to a specific IP-address for further inline processing.
The two independent receivers are available with 50, 80 or 200MHz real-time bandwidth and can be tuned between 2 MHz and 3.6, 14 or 26.5 GHz.
Learn more about HUGIN 2000 networked multichannel receiver
Contact:
Novator Solutions AB
Lars Hedlund: Product Owner – Spectral Data Analysis
lars.hedlund@novatorsolutions.se
Phone: +46 (0)8-622 63 50
Hammarbacken 6A, 191 49 Sollentuna, Sweden
About Novator Solutions
Novator Solutions AB provides cutting edge products, complete turnkey systems, and expert technical consultants within our three business units: Spectral Data Analysis (SDA); Control, Automate & Test; and Remote Measurement.
SDA focuses on providing innovative wideband recorder and multichannel receiver products based on leading edge technology from National Instruments.
HUGIN 2000 networked multichannel receiver key facts
Frequency range: 2MHz – 3.6, 14 or 26.5GHz
2 individual RF inputs with 50, 80 or 200MHz instantaneous bandwidth
1024 individual digital downconverters (DDC) per receiver
AM, FM, SSB & CW Demodulation
Configurable DDC parameters: Center frequency, sample rate, Gain, filter coefficients & IQ data stream or demodulation
Independent or networked operation with Server Client architecture
Multicast channel streaming to virtually unlimited remote computer