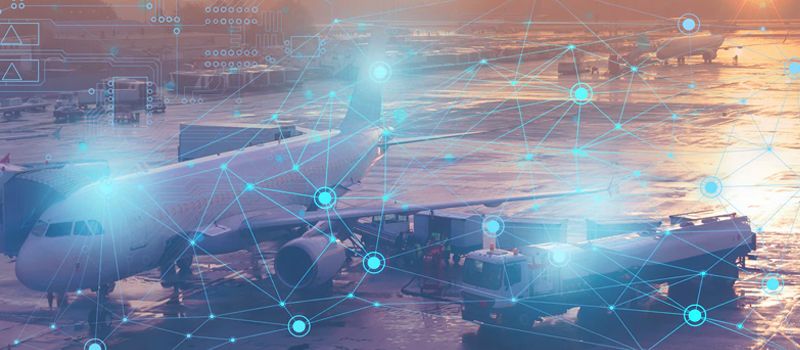 The aviation sector has been one of the most deeply impacted industries during the current global pandemic. Industry leaders are now looking toward new technologies to reinvigorate aviation, and one of the most promising new technologies comes from the domain of telecommunication engineering: 5G.
According to a new Wind River report, the aerospace sector is "is largely interested in 5G for its relevance to Urban Air Mobility as well as the potential to maintain global technology leadership and ensure defense communications are optimized and secure." 5G, the fifth generation of wireless telecommunications technology, is expected to deliver peak data rates of upto 20 Gigabits-per-second. This means that it will be possible to download a two-hour movie in about 10 seconds.
5G has many implications for aviation and aerospace engineering. Fully autonomous or remote-controllable Internet of Things (IoT) systems can be put into place, making data gathering and inspections much easier, cheaper, and most importantly, safer. For example, 5G technology can be used to build an array of over 10,000 'smart' independently-controlled airfield ground lights; a vast improvement on current numbers.
The Wind River survey also found that a significant percentage of the 400 top executives in the United States and China are ramping up their 5G investments due to the effects of the pandemic. The survey revealed that 37 percent of industry 5G projects In the United States, including those in aerospace, have accelerated because of COVID-19. Meanwhile, in China, 63 percent of such projects have moved up.
5G technology will enable real-time, high-bandwidth, densely-connected networks; which will be essential for advances in command, control, and communications.
There is quite a lot of research and development on 5G for aviation, and some use cases are already being implemented. Here are a few of them:

5G for Aviation: Airports and Airplanes
Gogo is developing new modems and antennas in collaboration with Cisco, designed to enable the world's first in-flight connectivity (IFC) 5G air-to-ground (ATG) network. The Gogo 5G network will leverage its existing 3G and 4G IFC infrastructure consisting of 250 towers. It will be available only in North America, and is expected to roll out in 2021.
Aircraft maintenance providers and airports are also partnering to test use cases of 5G technology. In February, Lufthansa Technik and Nokia deployed a 5G private wireless network at its shop in Hamburg. This project, dubbed "Virtual Table Inspection" by Lufthansa Technik, enables virtual engine inspections, where maintenance engineers at Hamburg can serve customers in different locations. They can also use the network for training engineers all over the world through high definition video.
Nokia deployed this network using its Digital Automation Cloud, and end-to-end edge computing and private wireless networking platform. Nokia is also using the same technology to partner with Citymesh in order to enable the use of 5G at Brussels Airport.
5G is also attractive to airports in the Middle East and Asia. Malaysia Airports Holdings Berhad (MAHB) has embarked on a digital transformation to develop the "Digital Airport 4.0", relying heavily on 5G. One of their major use cases is to improve passenger experience by developing autonomous buses. These buses, which will use a combination of 5G and AI, will transform passengers from one terminal to another "with minimal human intervention, high precision and absolute safety".
With these streamlined operations, airlines and airports can not only reduce costs; but also reduce carbon footprint to create a more sustainable aviation industry.
5G for Low Altitude Airspace
5G could serve as a medium for information sharing between air traffic, electric air taxis, drones, and wireless network providers to enable unmanned traffic management (UTM) systems. With current systems, it is very difficult to build an onboard collision avoidance system that satisfies regulations beyond an operator's visual line of sight without expensive ground-based radar or involving visual observers. The bandwidth and reliability of 5G networks would enable such systems to be built with ease.
Max Fenkell, director of unmanned and emerging technologies at the Aerospace Industries Association, told Avionics that "When it's all said and done, the aerospace and defense industries will likely be the number one user of 5G technologies".
NASA is also interested in 5G applications for low altitude airspace. The agency is sponsoring multiple activities to address needs in what it calls the "Advanced Air Mobility" (AAM) market. NASA's Aeronautics Research Mission Directorate is looking to address communications and navigation systems as 5G use cases for this AAM sector.
Davis Hackenberg, NASA's Advanced Air Mobility project manager, told Avionics that "These new services will attempt to combine the assured reliability and consistent performance of existing CNS systems with the blistering pace of wireless innovation in non-aviation markets like LTE/5G and satellite communications."